HALOTHERAPY, AROMATHERAPY AND REFLEXOTHERAPY (40 min.)
30-40 minutes, according to agreement and the possible combinations of massage and halotherapy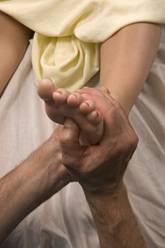 When our vital energy is blocked somewhere in the body, massaging certain zones-point, this delay can be "breaked" which helpes returning a specific organ back into balance, and the blood and lymph flow is normalised.
The organs of the right side of the body are represented in the right and the left in the left foot.
Pressuring the vital points reveals blockages, so with this we are removing stress, problems with blood pressure,aggression, headaches, psychosomatic problems, diabetes, improving concentration and energy potential of his body.
The treatment is performed in a lying or sitting position. Feet are heated with circular motion, and then the specific points are massaging which has an analgesic effect, pain decreases and gradually disappears.
---
You can fill out and send your APPLICATION FORM which is in the right column of the website...
---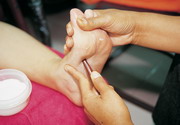 Reflexology is an exceptional method of prevention and is recommended at least one time every week.
Reflexology helps in the treatment of asthma, bronchitis, colds, coughs and sinusitis.
Reflexotherapy is combined with a Halotherapy in the salt room to reinforce the benefits in the prevention and treatment of respiratory system which is inevitable for the survival and quality of life.
Other benefits of this all-natural approach are: stimulation of metabolism, elimination of toxic substances in the body, stimulation of various endocrine glands, reduction of back pain and menstrual disorders.
Our goal is to connect all of the techniques that contribute to the betterment and functionality of respiratory system, with which we provide ease and calm to our body and mind.
When the reflexotherapy does not apply:
During internal injury, high fever, open wounds, high risk pregnancy and with people who have embedded heart bypass.
---
Send the link of this workshop to your friends who want to LIVE HEALTHY!
---